We're giving away three excellent books (if you promise to read them!)
Dave Gobbett | December 2019 - Highfields Book Review
The holidays are for great reading—so we're giving away three excellent books (if you promise to read them!)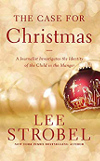 The Case for Christmas is an account of a sceptical journalist's investigation of the baby in the manger. Perfect for someone wanting to sort Christmas facts from Christmas fiction.

Good News Great Joy shows us why Christmas keeps being celebrated year after year (spoiler: it's not to do with twenty-first century consumerism). Read it while you're waiting for the Queen's Speech.
Best of all, help yourself to a copy of Matthew's Gospel—go back to where it all began, with this famous biography of Jesus Christ.