Sign-up TODAY for Aled Williams and Ivan Westley's 'Church evening-in'
NO-KYO 2020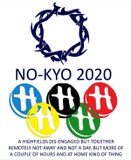 A Highfields Dis-engaged But Together Remotely Not Away and Not a Day, But More of a Couple of Hours and at Home Kind of Thing.
We would love as many of the church family as possible to join us for this evening of light entertainment, but you need to sign up first.
Please complete the registration form and SIGN-UP TODAY (25th May).
One of the main purposes of events like this is to help encourage us to share our lives, across the church family, even as we all experience life in social isolation. It would be great if you can join us, as it looks like being a really fun evening.
Go on, sign up now (and encourage your friends from Lifegroup/ Nexus/ 20s etc to do so as well...)