Grief Share is a grief recovery support group where you can find help and healing for the hurt of losing a loved one.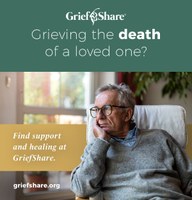 GriefShare
From mid-September, Highfields Church is running 'GriefShare' - a grief support group for those who would like to find hope and healing after the death of a loved one.
This will run weekly on a Monday from 19:30 to 21:00 in the Highfields Dalton Street Centre - just down the road from the Highfields Church main building.
Meeting schedule
Sessions are self-contained.
| Meeting | Date | Time |
| --- | --- | --- |
| 1 - Is This Normal? | Mon, Sep 11, 2023  | 7:30 pm – 9:00 pm |
| 2 - Your Grief Journey | Mon, Sep 18, 2023  | 7:30 pm – 9:00 pm |
| 3 - Loneliness & Sadness | Mon, Sep 25, 2023  | 7:30 pm – 9:00 pm |
| 4 - Self-Care | Mon, Oct 02, 2023 | 7:30 pm – 9:00 pm |
| 5 - Fearful & Overwhelmed | Mon, Oct 09, 2023 | 7:30 pm – 9:00 pm |
| 6 - Anger | Mon, Oct 16, 2023 | 7:30 pm – 9:00 pm |
| 7 - Regrets | Mon, Oct 23, 2023 | 7:30 pm – 9:00 pm |
| 8 - Grief & Your Household | Mon, Oct 30, 2023 | 7:30 pm – 9:00 pm |
| 9 - Grief & Your Friendships | Mon, Nov 06, 2023 | 7:30 pm – 9:00 pm |
| 10 - Questions for God | Mon, Nov 13, 2023 | 7:30 pm – 9:00 pm |
| 11 - Stuck in Grief | Mon, Nov 20, 2023 | 7:30 pm – 9:00 pm |
| 12 - Hope & Resilience | Mon, Nov 27, 2023 | 7:30 pm – 9:00 pm |
| 13 - What Do I Live For Now?  | Mon, Dec 04, 2023 | 7:30 pm – 9:00 pm |