Welcome to Highfields! This section introduces Highfields Church - if you are new and want to "get connected" and become part of the vibrant community that comprises Highfields.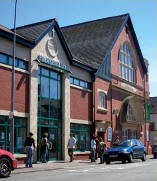 There are a variety of ways of getting connected:
If you want to know more about Christianity then there are a number of opportunities including "Just Looking" and the "Christianity Explored" course
If you have recently started attending Highfields then a series of evenings called "Next Steps" is held each quarter
If you have recently started attending Highfields and are a Student then check out students@highfields and the welcome events that are run each term, such as student lunches
If you are an International visitor or student then you may find our Internationals programme of help
If you would like to join a weekly Bible study then look at our Small Groups page.
If you have been attending Highfields for a while and would like to become a member, then membership classes are run from time to time
This section is updated as information about events becomes available so please pop back to see the latest updates or subscribe to the RSS feed below.