"The Freedom of Self-Forgetfulness" by Timothy Keller.
When
Nov 26, 2023
from

08:00pm

to

09:00pm

Where

Highfields Church, Coffee Lounge, Monthermer Road, Cardiff, CF24 4QW

Contact Name
Church Office
Contact Phone

029 2065 0740

Add event
to calendar

vCal




iCal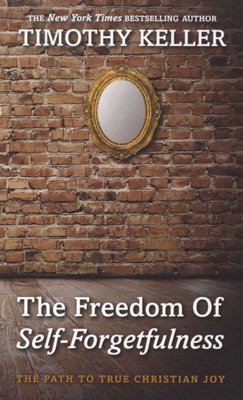 This event is being organised by Planted: Women/s Book Group.
The sessions are being held at Highfields Church after the evening service on three Sunday evenings: 12th, 19th and 26th November.
For this series the group will be reading through and discussing
"The Freedom of Self-Forgetfulness"
by Timothy Keller.
This book is available from BOOKS Plus Cardiff

 .
The Freedom of Self-Forgetfulness

What are the marks of a supernaturally changed heart? This is one of the questions the Apostle Paul addresses as he writes to the church in Corinth. He's not after some superficial outward tinkering, but instead a deep rooted, life altering change that takes place on the inside. In an age where pleasing people, puffing up your ego and building your resume are seen as the methods to 'make it', the Apostle Paul calls us to find true rest in blessed self forgetfulness.

In this short and punchy book, best selling author Timothy Keller, shows that gospel humility means we can stop connecting every experience, every conversation with ourselves and can thus be free from self condemnation. A truly gospel humble person is not a self-hating person or a self-loving person, but a self-forgetful person. This freedom can be yours...