A special opportunity to hear Dr Yohanna Katanacho, the Academic Dean of Bethlehem Bible College and a leading Palestinian evangelical, speak about his life, home and mission on Sunday 6th January 2013.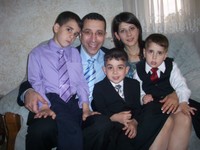 Rev Dr Yohanna Katanacho is a man who treads everyday, in a very literal sense, where the Lord Jesus trod.
Hanna is a Palestinian Evangelical who serves as the Academic Dean for Bethlehem Bible College where he is also Professor of Biblical Studies. He is also a Baptist minister in Nazareth. He studied at Bethlehem University (BSc), Wheaton College (MA) and Trinity Evangelical Divinity School (MDiv, PhD). He has authored several books in English and Arabic including "The Land of Christ: A Palestinian Cry"; "A Commentary on Proverbs"; "The Seven 'I AM' Sayings in the Gospel of John"; and "The King of Peace and His Young Followers". He is married to Dina and has three sons.
Palestine, the land where the Prince of Peace was born and raised, continues to be one of the world's political and military flashpoints. Dr Katanacho will speak about the situation there and in neighbouring Israel, and also his ministry in one of the most difficult and divided areas of the world.
Hanna will be speaking at a special tea in the Coffee Lounge at Highfields Church Centre, Monthermer Road, Cathays from 4.30pm on Sunday 6th January 2013, to which all are invited. He will then be interviewed in the evening service at 6.30pm before preaching from John 2: 1-11 on the subject "Changed by Jesus."

Everyone is very welcome.