Dalton Street Community Centre is just a short walk from Highfields Church's building in Monthermer Road.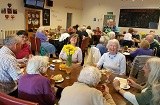 The main activity which takes place is the Dalton Street Luncheon Club which provides lunches to our elderly in the community, three days a week, every week of the year except for Christmas.
The club has served over 1800 meals in the last twelve months, through an entirely volunteer workforce. It provides a valuable opportunity to show God's love to all involved. Most of the customers come for companionship, encouragement and entertainment, and for many it is a lifeline in the community providing essential contacts with others, with long standing relationships with volunteers and one another.
 Dalton Street Community Centre
 Dalton Street, Cathays, Cardiff, CF24 4HB