The term card for September-December 2021 is available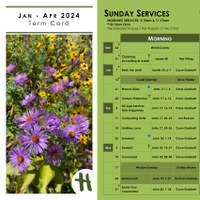 Term Card Image
The term card provides details of our services for up to December 2021.  Sunday morning services from October to December are following the theme of:
How Grace Changes Lives: 
Studies in 1 Corinthians 1-7
Sunday evening services are following the themes of:
Who is There Like You?
Studies in the Attributes of God
 The term card also provides details about Life Group topics and special events.
View the Term Card using this link:
  View the Term Card in browser if your browser is set up to view pdf files.
Download the Term Card using this link:
 September-December-2021-Term-Card.pdf — PDF document, 386 KB