Missions Sunday - June 2012
'Take My Life' with Libby Little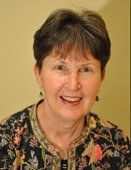 As the UK is gearing up for the Olympics, stories of the dedication of athletes for whom this will be the pinnacle of their careers are inspirational. 
The Apostle Paul was fond of using the image of the athlete in his writings as he encouraged Christians in the first century to be totally committed to Jesus Christ.  But in his letter to the church in Corinth, Paul wrote about the Greek athletes, "They do it to get a crown that will not last, but we do it to get a crown that will last forever."  
Libby Little's husband, Dr Tom Little, paid the ultimate price in commitment to Jesus when on 5th August 2010 he, along with nine other members of his medical team, was murdered in a remote area of Afghanistan. Tom and Libby had worked in Afghanistan for over 30 years sharing the love of Jesus through their medical mission. 
On 10th June we have Libby with us to speak at both our Sunday morning services on the theme "Take my life".  Although the loss of Tom continues to be a sad daily reality for Libby she is comforted by the knowledge that his legacy will last for ever and that his cruel death is not the end of the story. 
Come and listen to Libby share her story at the 9.30 and 11.15 services on 10th June and afterwards at a lunch for Life Group leaders in the Pierce Hall.
In the evening Rowland Hughes, who heads up our Internationals work, will be sharing about God's heart for those who are from traditionally non Christian cultures.
Mission Sunday Events:
Take My Life

Jun 10, 2012 from 09:30 AM to 10:45 AM

—

Highfields Church Cathays - Monthermer Road, Cardiff CF24 4QW

,

10 Jun - Morning Service - 09:30am - Libby Little - 2 Cor 2:14-16, 3:4-6

Take My Life

Jun 10, 2012 from 11:15 AM to 12:30 PM

—

Highfields Church Cathays - Monthermer Road, Cardiff CF24 4QW

,

10 Jun - Morning Service - 11:15am - Libby Little - 2 Cor 2:14-16, 3:4-6

Concern for the City

Jun 10, 2012 from 06:30 PM to 07:40 PM

—

Highfields Church Cathays - Monthermer Road, Cardiff CF24 4QW

,

10 Jun - Evening Service - 6:30pm - Rowland Hughes - Jonah 4