The Highfields Blog Latest
Building the Church: The latest blog posts from ALL the Highfields Contributors ...
Crazy Busy
I'm too busy. We've all heard it; we've all said it.
Dave Gobbett | 09:15, June 2019 - Highfields Book Review
By Kevin DeYoung - (2013) IVP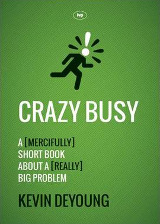 For Being "Busy" in today's world is often seen as a badge of honour or as a sign of importance. Sometimes it feels like the theme of our lives; when will things ever stop? 
In this book Kevin DeYoung helpfully and biblically points to some of the issues that cause this: pride technology, kids, work and a lack of rest to name a few. 
DeYoung points us to a helpful balance between doing nothing and trying to do everything and comforting us with the Gospel throughout. 
This is a must read (short!) book on a big problem!
 
Contents
Hello, my name Is Busy
Here, there, and gone: Three dangers to avoid
The Killer P's - Diagnosis 1: You are beset with many manifestations of pride
The Terror of total obligation - Diagnosis 2: You are trying to do what God does not expect you to do
Mission Creep - Diagnosis 3: You can't serve others without setting priorities
A Cruel Kindergarchy - Diagnosis 4: You need to stop freaking out about your kids
Deep calls to deep - Diagnosis 5: You are letting the screen strangle your soul
Rhythm and Blues - Diagnosis 6: You'd better rest yourself before you wreck yourself
Embracing the burdens of busyness - Diagnosis 7: You suffer more because you don't expect to suffer at all
The one thing you must do.


---
[ISBN13: 9781783590230]
---o0o---
ALL blog posts during 2018-2019 from the Highfields Contributors:
I'm too busy. We've all heard it; we've all said it.

Making Sense of the Old Testament God

A book about human dignity: about the image of God and how it should influence the way we think about the world

News Report ...

What the Bible says about abstaining from food

Unearthing Old Testament treasure

Joshua Bell is a world renowned, Grammy award-winning violinist...

Walking with God

Dr. Craig Hazen from Biola University was a very welcome guest speaker at Highfields Church on July 7th.

As a child I was obsessed with sport - I loved nothing more than chasing after a ball.