Our trainee minsters Pete Evans and Jon Reeves are just back from a week spent at Scottsdale Bible Church in Arizona, the church with whom Highfields is hoping to partner in the coming year.
Pete Evans | 17:13, 1st February 2013 | Somewhere over the USA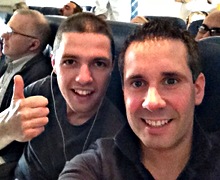 At time of writing we are currently at 34,000 feet looking down at the Arizona desert, the giant city of Phoenix disappearing in the distance behind us. Hopefully our change at Atlanta will go smoothly - we've got 50 minutes to dash from domestic to international departures, so fingers crossed we make it!
We've spent a week at Scottsdale Bible Church, the 97th largest church in America with more than 6,000 people attending 9 services at 3 venues across Phoenix. We came so we could experience ministry in a different culture and learn valuable lessons that will help us as we seek to grow and reach out with the gospel at Highfields.
I can honestly say that we have worked HARD this week. 6.30am starts, late finishes and innumerable meetings and services in between have left us tired but equally fired up to apply some of the lessons we've learnt. We'll be posting some of the stories here over the next few weeks, so make sure you check back often to learn with us.
For now, let me just leave you with this thought - we travelled almost 6,000 miles across the globe, but when we landed we found family. We are so grateful to Tom and Jennie Sharda and their four girls for their hospitality (and epic games of Cluedo!), and also to all those we met who welcomed us like long-lost friends. 
This week has been a powerful testimony to the unity that is found in Christ, as we shared with brothers and sisters, all of us redeemed by the same blood, adopted into the same family and serving the same King. We leave Scottsdale Bible Church more certain than ever that no matter who you are, whatever questions you have, and whatever language you speak, Christ is the answer.
We were able to share Highfields' vision for Wales once again. This video was recorded during our visit to be played to the congregations at Scottsdale on Sunday morning. 
May God bless the partnership between our churches and through it bear much fruit for His Glory. See you back on the ground!