Shepherd of Cactus Campus
One of the real highlights for me in Phoenix was our time with Rick Holman, the pastor of Scottsdale Bible Church's 'Cactus Campus', their satellite congregation.
Pete Evans | 3:45pm, 6th February 2013
Cactus began meeting together 4 months ago and on the first Sunday they had more than 400 people show up, prompting them to immediately move to 2 Sunday morning services. 250 new people have joined the church from the community already, an amazing work of the Holy Spirit. But the thing I found striking was Rick's complete disinterest in numbers, apart from one. 'The only number I am interested in', he told us over a giant burrito, 'is you'.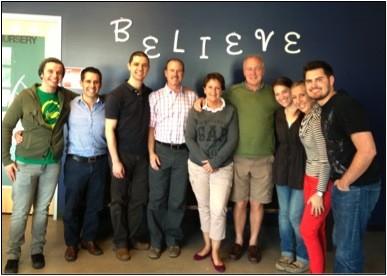 Rick has lived with his family in the community of Cactus for several years. He coaches the baseball team at the school that is next door to the church and he seems to know everyone we meet. He loves people. Rick operates on the principle of 'Touching Distance' - he often places an affirming hand on my shoulder as he talks. He wants to be in people's lives, engaging with them and loving them, and to do that 'you need to be close enough to touch them'.
In an age of online networking, Rick's relational approach is almost unique. Less Facebook, more face to face. People love it, as this video about Nick Zupet shows. They feel valued. They feel included. They feel cared for.
Rick defines his job as being 'a shepherd', someone who cares for the sheep. In a big church this is often the first thing that slips off the agenda as the numbers and programmes take over. Big picture thinking is essential but ultimately the most effective way to share the gospel with someone is by being in their life and loving them like Jesus. When that happens, the words we speak carry real weight.
Rick and his team were a great reminder to us that we must be in touching distance, sharing life with one another and bringing the gospel to where people are. The BBQ after the service was put on so that people had time to do just that. 'People don't care what you know until they know that you care' Rick says. The great thing for the guys at Cactus Campus is that they really do know that he cares.
Because we loved you so much, we were delighted to share with you not only the gospel of God but our lives as well. - 1 Thessalonians 2:8